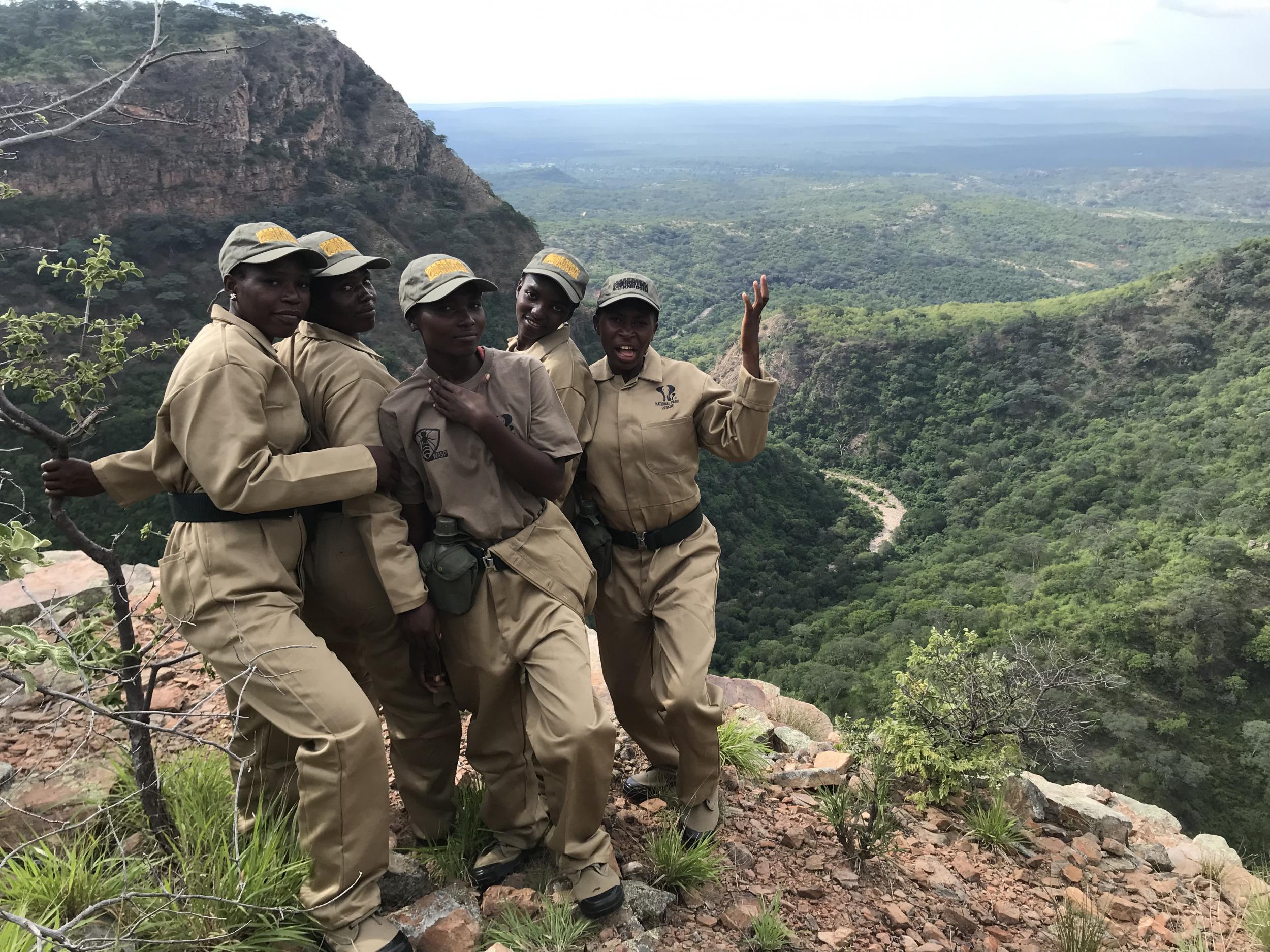 We are protecting wildlife at risk from poachers due to the conservation funding crisis caused by COVID-19. Help is desperately needed to support wildlife rangers, local communities and law enforcement personnel to prevent wildlife crime. Donate to help Stop the Illegal Wildlife Trade HERE
For a single mother living in Zimbabwe, the job prospects are few and limited; growing food to sell, sewing or cooking.
But a new community development initiative is training them to be a crucial part of the anti-poaching frontline, with a focus on female empowerment.
Community Scouts are a squad of wildlife-protecting troops, trained by National Park Rescue and supported by charity Space for Giants, who provide equipment and pay their salaries – which are much more than a living wage.
"This programme has changed my life," says Sithabile Munenge, 33. Before becoming a Community Scout she sold tomatoes on a dusty roadside to make money to care for her children, aged nine and two. "But it wasn't enough to look after them.
"Usually men are the first preference to be employed by companies. But now I have the respect of my community, and I will be able to build my children's future."
Zimbabwe has some of Africa's largest game reserves, home to thriving populations of elephant, buffalo, impala and wildebeest.
The threat from poaching looms large, especially where the female Community Scouts operate in Chizarira National Park, a remote wilderness which lost over 3,000 elephants between 2006 and 2016.
Covering just under 2,000km², Chizarira's rugged valleys and soaring mountains make it a vulnerable landscape, with plenty of places for poachers to hide.
Recently a spate of cyanide poisonings blamed on poachers in nearby Hwange National Park led to 80 elephants dying.
To mark World Rangers Day this week The Independent is celebrating all those who work to protect wildlife, as part of our Stop The Illegal Wildlife Trade campaign.
The campaign was launched to call for an international effort to clamp down on the poaching and illegal trade of wild animals, which remains one of the greatest threats to future biodiversity.
Funds raised will pay for vital wildlife protection projects implemented by the campaign's partner charity Space for Giants. This will work to help stop the poaching and illegal trafficking of animals.
Community Scouts walk long distances patrolling Chizarira to remove snares – or wildlife traps – and look for signs of illegal activity, apprehending any suspected poachers they encounter.
"The best thing about my job is protecting wild animals," says 23-year-old Scout and mum-of-one Siphathisiwe Muleya. "Before I started I was scared of elephants. Now I am proud of the work I do."
Patient Munsaka, 23, who has a three-year-old son, agrees; "this is my first ever job and at first I felt afraid when I was patrolling in the bush.
"But day by day patrolling has encouraged me and given me self motivation. I have learnt so much and developed love for wild animals. It is a dream come true."
The creation of a team of community scouts comprised entirely of single mums was the brainchild of Niall McCann and Mark Hiley of National Park Rescue. They saw an opportunity to turn a wildlife security need into a community outreach programme, which gained the full support of Zimbabwe's Parks and Wildlife Management Authority.
National Park Rescue advertised the roles in the Chieftainships – or areas – neighbouring Chizarira, making it clear that candidates had to be single mothers and were not expected to know much, if anything, about conservation.
Niall McCann, National Park Rescue's Conservation Director, told The Independent. "We were looking for friendly recruits who were eager to learn, and the five successful women each come from a different Chieftainship.
"The local culture is strongly patriarchal, and some people are unsure about women working in a role traditionally seen as male. But employment is valued so highly that most people are accepting of anyone having a job, as the benefits filter down into the wider community."
McCann adds "women are just as capable as their male counterparts, and their conversational networks are more likely to reveal intelligence on illegal activity. Importantly, they also invest more of their salary back into their family than men do, so we are better able to build community resilience and reduce poverty."
The people most affected by poverty in Africa are usually women, an issue that has only intensified since Covid-19 struck. McCann hopes to train another five single mothers in the next 12 months, a model that offers a potential solution for some women, based on empowerment and training.
Community Scout Jeska Muleya is 21 and has a three-year-old son. She says "I was excited and emotional when I found out I had been chosen [to be a Scout], to participate in the preservation of wildlife for future generations.
"Before this, I didn't know anything about myself. The training has taught me teamwork and discipline, and shown me what I capable of.
"In the future, I hope to be able to build a house for my family. I hope this job carries on forever."
The increased threat of poaching since the global pandemic has seen the Community Scouts stepping up patrols, meaning even more hill climbs for the women as they keep watch over Chizarira's jagged terrain.
"I'm tired at the end of each day after so much walking, but it feels good," says Anita Mudenda, 19, who has a two-year-old daughter called Princess. "There must be animals in our children's future. It is our obligation to protect them for that reason.
"My daughter is happy about what I'm doing. She wants to be just like me."